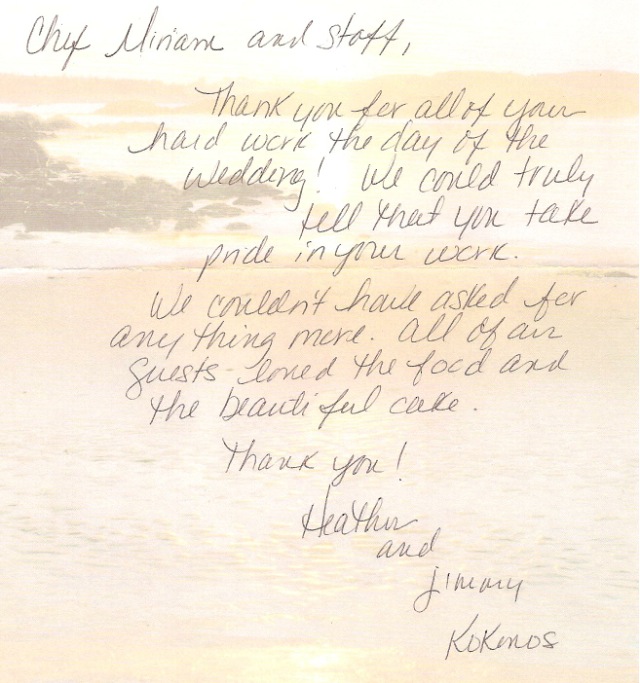 Bachelorette Party - Atlantic City, NJ
Thank you so much for doing that - it was absolutely perfect and she LOVED THE CAKE!! ha ha ha
The food was so excellent and your attention to the little details on like the fruit platter and the cake, it just made everything extra special and the bride-to-be even said it was the best weekend of her life!! :-) That meant everythinggggg to me! So thank again for being a part of it and you did such an amazing job!!!
Jessica


Wedding Reception - Stone Harbor, NJ
8/17/2013
We contacted Chef Miriam after finding The Icing on the Cake online. She created a menu for our wedding reception within our budget and was she great to work with. The day of our wedding the guests were truly pleased with the food and the cake was absolutely beautiful and tasted very good as well. The Icing on the Cake staff was courteous and attentive to our guests as well as every detail during the reception. We couldn't have asked for more on our special day. I would recommend Chef Miriam if you are looking for a caterer for any occasion. Thank you again Chef Miriam to you and your staff for all of your hard work.
Jimmy & Heather Gilbertsville, Pa
Katie

This is a very small business, however Miriam, the owner was wonderful. She was very flexible and creative. I sent her a picture of what I wanted and she exceeded my expectations. We had pineapple and vanilla cupcakes and she hand painted Giardelli white chocolate shells for the top. It was so beautiful and the price was great. I would definitely recommend her for a beach wedding!
Amazing Job!
Miriam did such a great job on our beach themed wedding cake! The cake was not only delicious but was super adorable. Miriam even made me an allergy friendly smaller wedding cake.
September 18, 2011, Florida
Marissa Kiss
Great to work with
Chef Miriam was fantastic to work with. We are from NYC and had our wedding near AC. Miriam took the time to drive to the Hotel we were staying at on our 1st trip down to the AC area to make sure we felt comfortable with her products/services. She offered great suggestions and a wide array of cake fillings/flavors/designs to choose from. 

On the day of our Wedding, everyone raved about the cake and how moist it was compared to traditional wedding cakes they have had. The design was fantastic.

We were very pleased with Miriam's personalized service (not something we felt we would get with some of the bake shops in the area). She was attentive and always quick to respond to our questions. She even was able to provide candles that another vendor could not find...as well as a great ice sculpture for our big day.

I would highly recommend Chef Miriam for any special occasion.
August 16, 2011 New York NY
Jim Dietz
We LOVE you!
Thank you so much Miriam! Angelina's cake was so magical and delicious!! Everyone at the party asked about it. I love how creative you are. I give you a couple of colors and a theme and you always blow me away! Thank you!!! Can't wait until the next one. I think it will be a "just because" cake. :)
July 18, 2011 Vineland, New Jersey

Berenice and Angel Alicea

Outstanding!
Hosted a surprise 50th for my husband in Ocean City, NJ. Was coming in from out of state and overwhelmed with all the little details of pulling off a big event. My friend, Georgia, told me about "The Icing on The Cake Catering". Her cousin had used their services. I called Miriam and it all fell beautifully in to place. First she listened to my needs and then she gave suggestions. Used Miriam's service for all the food, the bartender, the cake and servers. The party was a success, the food was delicious! Our guests felt pampered and I was free to enjoy the party. I highly recommend "The Icing on The Cake Catering"

Jeanne Cole 
July 17, 2011 Littleton, Colorado




60th Birthday
Thank you! Due to the hardwork of you and your family Jerry's 60th Birthday Party will be a night we always remember. The guests loved everything but the cake was the "BEST"! You did a wonderful job and Jerry and I would be glad to give you a reference anytime. Thank you always,
Jerry Marziani & Audrey Neubert

July 13, 2011 Brigantine, NJ
Bachelor Party
Everything went great. I wanted to let you know that your service was wonderful when we were in Atlantic City. Food was amazing, on time, and perfect for a Bachelor Party. It was above and beyond what we were expecting. Thank you so much for working with us, and we will be sure to get in touch with you next time we plan a party in the AC area.
June 17, 2011 Scott, New York, NY
Zuane Wedding Cake
El bizcocho estaba riquísimo, perfecto y precioso. A plus. Gracias


Translation: The cake was delicious, perfect and beautiful. A +. Thank You
June 17, 2011 Zuane, Sommers Point, NJ
QUINN'S CHRISTENING
Chef Miriam and her staff truly exceeded all of my expectations!!! Chef Miriam made the planning a breeze, which is saying a lot since I was also caring for a newborn. The food was so delicious - my guests are still talking about it. The service wass A+, with an extremely helpful and courteous staff. The butlered hors d'oeuvres really added a special touch. I also loved how all the leftovers were packed away for us - talk about no stress! I can not wait to have another party and to have Chef Miriam cater it! (and neither can my guests!)
May 22, 2011 by Meghan Cherenack, Mays Landing, NJ
WEDDING DAY
We hired Miriam to cater our recent wedding, since we were planning it from across the country. When I saw that she did cakes as well as food I was sold. She was able to accomodate all our needs for the menu, and her food is delicious. She continued to be a tremendous resource as she was able to do my flowers also, and coordinated all the additional rentals. She truly allowed my wedding party to be stress free for me and my husband, as I trusted that she had it all under control. She even threw together a last minute bouquet for me to throw, and she was relaxed and smiling the whole time. Everyone loved our party, the food and cake were incredible. I have to thank Miriam for allowing me to really enjoy my wedding because of all she did for me. I would recommend her to anyone who enjoys working with a real professional.
July 23, 2010 by Tara Tschampel, Tacoma, WA
WEDDING CAKE
Miriam Is awesome!!! We just got married on June 12, 2010... The cake was fabulous and exactly what I wanted and more, she did a great job, It was amazing, People are still talking about how great the cake was and how great it tasted, Not only did it look good it tasted great too!!
So I recommend her services to anyone, she is great!! I cant say enough kind words ... Thanks so much!!
June 12, 2010 by Lisa KIarrer, Somers Point, NJ
REHEARSAL DINNER
We cannot thank Miriam and her staff enough for putting together such a sumptuous and elegant Friday evening Rehearsal Dinner for our family and friends to celebrate our son and new daughter-in-law's wedding on Saturday evening. Since my husband and I live in Florida, the Rehearsal Dinner had to be planned by email and phone. Miriam, you didn't disappoint. You excelled. We didn't feel like we had met you for the first time. Quite the contrary. We felt like we had known you forever. You made us feel so warm and welcome. We hope to have a long-lasting relationship. If there were 6 stars, not 5, we would have given you those and more.
July 9, 2010 by Ronnie & Fred Pearl, in Lake Worth, Florida
A.C. GROOMS CAKE
Thank you so much for delivering the amazing Atlantic City and gambling themed groom's cake to my husband! The surprise cake made his bachelor party even more special. He is still raving about how this cake was perfectly designed! Many thanks for helping me create such a special memory for the man of my dreams!January 26, 2010 by Natonia Samchuck in York, PA
YOU DID IT AGAIN!!!!
New Years Eve Wedding
Once again everything was more than delicious! Miriam you are a true God send to the catering world! Not only did you pull through for us at the very last minute but everything was as though you had planned for weeks. We cannot thank you enough for everything. Our wedding day was so very special and you were a big part of that. My father-in-law still talks about the food! So once again a million thanks!
January 7, 2010 by Bernice & Angel Alicea in Vineland, NJ
The Icing on the Cake is the most amazing caterer in this world! Miriam and her wonderful staff made our son and daughter in laws rehearsal dinner party a wonderful memory!
From the formal dinner to the dessert buffet, the signature drink, the taco bar, the finger foods, and the most attentive service.....just amazing! I cannot wait to host another party to use The Icing on the Cake again! Thank you so much Miriam for making this wedding rehearsal dinner a special day!!!!!!!

September 30, 2009 by Liz Reese in Fairless Hills, PA
Thank You For A Very Delicious Birthday Cake
Thank you once more for a special cake that eveyone at my brother's birthday party loved. The ribbon around the cake was very modern looking and added a special touch as my brother untied the cake just like a ribbon on a birthday present. Also, the theme worked well for our party as did the side dishes (potatoe and pasta salads). Every thing was delicious and wonderful :)

September 28, 2009 by Brenda Izaguirre in Ventnor City, NJ
50th Birthday Party I hosted my husband's 50th birthday party for about 20 people and Chef Miriam did a wonderful job. She was gracious enough to cater the event at the last minute. The menu was a luau theme and I couldn't have asked for more. This is the second event that the Icing on the Cake has done for us and we wouldn't think of using anyone else. Thank you!!!!!
August 18, 2009 Tracey Singer


Beautiful & Elegant

Our wedding on July 18th was such a simple yet great event! All made possible with the help of Chef Miriam and her outstanding team. People loved the food and there was plenty for seconds. The setting was really nice. She paid attention to detail and made it all happen within such a short time frame and a short notice. Will definately do business with her again!
August 16, 2009 by May & Halim

Angelina's Cake
I wish I could give 10 stars!!! The cake was the talk of the party. It exceeded our expectations . Not only was it absolutely beautiful but it was delicious too. We can't thank you enough for such a wonderful job.
May 20, 2009 by Berenice C. & Angel A.
In The Nix Of Time and Excellent
Thank you so much for coming to my rescue at the last minute and delivering above and beyond my expectation.The sheer presentation/beauty and exquisite taste of my cake had everyone talking. Combining elegance and color tied the theme together all in less than 24hr notice and at an affordable price. Thank you.

February 11, 2009 by Felicia Sode in Absecon, NJ
Birthday Cake
Chef Miriam designed an amazingly creative cake for my son's birthday!
Not only was it beautiful but it was the most delicious cake I've ever had!
September 01, 2008 by Jill in Absecon, NJ
Great Presentation!!
Miriam and her team delivered a great presentation with a Hawaiian them of extraordinary delicious food.
The combination of flavors made the appetizers very popular with our guests at our monthly Hispanic
Chamber of Commerce meeting. I will recommended it!!
July 28, 2008 by Luis Gayoso in Wayne, PA
Tastes as good as it looks!
The food is fresh, delicious, and has great presentation. We expect to share many future events. Bon appetit!
July 23, 2008 by 3 Chicks That Click Photography
Wow!!
WOW! is all I can say about "The Icing on The Cake" I think I just gained 50lbs just looking at what you
make! I will definitely refer all my Bridal Customers to your Business.. Beautiful workmanship.
Regards,
July 18, 2008 by The Lights of Rose LLC
The array of choices please the smallest child to the most discriminating adult.
On May 4th, "Icing on the Cake" catered my son's Communion party. I had 100 people in attendance - the
food was fresh, hot and wonderful. There was also something more, a special personal touch. I could tell the
hours spent on perfecting the presentation, even for the smallest of details for each and every item in the
buffet. So, I used them again for a July 4th party, which was casual barbecue style food. The most
wonderful item was the the seemingly least interesting item - the potato salad. Apparently, it was Miriam's
grandmother's recipe. Can I tell you I ate the leftovers for breakfast? Then my sister had a "Princess Tea
Party" which I asked Icing on the Cake to make "tea" sandwiches and a fresh fruit platter. Again, I was
pleasantly surprised. The array of choices please the smallest child to the most discriminating adult. The
detail that floored me was the jewels hot glued to toothpicks - really cute. I definitely recommend their
service.
July 11, 2008 by Christine Bruno in Port Republic, NJ
Beautiful & professional service - You will hear from us often.
People loved the varied cuisine. The Cheesecake was like nothing I had ever had before, no wonder it was
gone in minutes. I would like to offer a special note of gratitude to you Chef Miriam Martinez, for your
careful preparation and strict attention to all details. I entertain often and my job is a lot easier when I work
with professionals. The level of service that you and your staff provided was excellent, Everything was
taken care of in a most professional way." You will hear from us often, Thank You .
June 30, 2008 by Orlando Williams, 6/14/08 monthly Latino Artist Gathering - NYC
Tropical Theme - Delectable food, fabulous presentation, & courteous service
It was such a pleasure working with Chef Miriam from The Icing on the Cake. Everything flowed so
smoothly, from being able to utilize the PayPal system for my deposit, to the personal touch in which
everything was prepared. All of my guests raved about the delectable food, fabulous presentation, and
courteous service. Thank you Chef Miriam for creating such a memorable event. I look forward to working
with you again.
June 30, 2008 by LMC in Atlantic City, NJ
DELICIOUSLY MADE---EVEYONE LOVED THE BEAUTIFUL CAKES---THANK YOU!!
LOCATION: VENTNOR MIDDLE SCHOOL, VENTNOR, NJ
EVENT: 8TH GRADE GRADUATION CEREMONY - 6/18/08
EVERYONE LOVED THE TWO SHEET CAKES. THEY WERE DELICIOUS & BEAUTIFULLY
MADE. THE BEACH THEME WAS VERY CUTE AND WENT WELL WITH OUR TOWN'S RESORT
ATTRACTION----THE BEACH & SHORE AREA. BOTH CAKES WERE DELIVERED AT THE
RIGHT ROOM TEMPERATURE, READY TO SERVE.
I WOULD RECOMMEND "THE ICING ON THE CAKE" TO ANYONE WHO IS LOOKING FOR
SOMETHING A BIT MORE PERSONABLE, ARTISTICALLY DIFFERENT AND SIMPLY
DELICIOUS
(A WHOLE NEW LEVEL OF DELICIOUS THAT IS).
THANK YOU CHEF MIRIAM MARTINEZ, YOU WILL BE HEARING FROM US AGAIN.
June 24, 2008 by BRENDA IZAGUIRRE / V.M.S. 8TH GRADE DANCE COMMITTEE MEMBER in
Ventnor City, NJ
Quality Service - Retirement Part
y
I am employed with the New York Racing Association and I enlisted the catering services of the Icing on
the cake. They catered in January 2008 for a retirement party for my co- worker of 35 years. I needed
quality service so the Icing On The Cake was the first name that came to mind. We had 60 guest in
attendance and they were very satisfied with the food. We had a wide variety for dinner. We also had mouth
watering deserts.We had about 5 cakes that were all very delicious and were gone within minutes. The
retirement cake was personalized just for the guest of honor. We had a great time and danced the night
away. And thanks to Icing On The Cake , we didn't have to lift a finger to cook. Everyone went home full
and raving about the food the whole week at work. We had a great time and would recommend their
services for any special occasion. Posted on April 23, 2008 at 10:47 AM by Linda Bailey
June 01, 2008 by Linda Bailey in New York, NY
It was stunning.
"I just cannot rave enough about the wonderful talent you are. People are still raving about the party and
EVERYONE was dancing. You made it hard for the rest of us to compete. It was stunning. Thanks again…
"
April 04, 2008 by AB in Port Republic, NJ
FANTASTIC
BRAVO, BRAVO, BRAVO
AN EXCELLENT JOB - THANK YOU.
April 04, 2008 by HC in Absecon, NJ
What a classy event
"That was the absolute best party I ever attended. You went above and beyond. The room was well thought
out and beautiful. I just LOVED the flashing lights on the balloon. How cool! I cannot thank you enough
for such a wonderful time. You out-did yourself. What a classy event that will be remembered for a long
time to come."
April 04, 2008 by CB in Absecon, NJ
xyz
Galloway, New Jersey 08205
(609) 573-5004
onthecake@live.com